I was looking at trialing some Australia native plants in my garden and by good fortune a friend introduced me to Pauline Reynolds. Pauline has a beautiful suburban native garden and volunteers at the Bayside Community Plant Nursery in Sandringham, she has wealth of knowledge and practical experience so she gave me some great advice. Even better she gave some tips on planting Australia natives in planters!
For something different in your garden, try growing native plants in pots. In fact some of our more temperamental plants can do better. Attractive pots can be moved around your garden according to the season, and the winter flowerers brighten up the view from windows. So small shrubs, ground covers and wildflowers can be very rewarding and select plants that will thrive in your locality and climate.
Always start with a container that's the right capacity for the plant's expected size. Place a few bits of old broken terra cotta for instance under your pot to get it a centimeter or so off the ground specially if it's on hard paving, to make sure it drains well and use the best quality native potting mix. Ordinary potting mix may have the wrong nutrients for the plant such as too much phosphate that can kill or stunt your plant. Soak the plant then put it in the pot as if you were planting in the garden leaving two or three centimeters at the top to hold the water.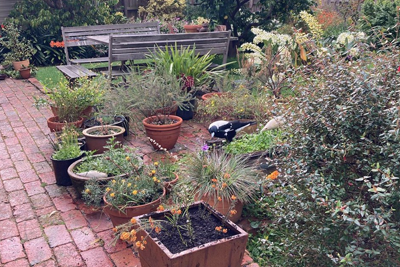 Water in well and it is also a good idea to give a dilute solution of seaweed tonic to help to reduce any shock to the roots but don't actually feed till the plant has started to show signs of new growth. Again an occasional feed with a dilute solution of liquid fertilizer two or three times a year is helpful but avoid over feeding.
Keep the water up to them, especially in summer, making sure not to over water. The soil should only feel moist to the touch. A good soaking, say three times a week, unless during a heat wave, is far preferable to a sprinkle every day. If the pot does dry out and become hydrophobic, if possible, soak in container of water till it stops bubbling to saturate the mix again or drip water for a time.
A good guide is to never be afraid to prune, either tip prune regularly being sure to keep the flower buds, or give the plant a good cut back and shaping after flowering then a light feed.
Another way of enjoying native plants in pots is to plant a selection of the prettiest wild flowers together in a decorative arrangement. As people do with exotics.
Do give it a try. Experiment with the plants and the different pots, some terra cotta, some rusted metal, some old buckets and other interesting containers you may have lying around. It's something which can give a lot of pleasure and enjoyment and add beauty and colour.