It's now the 6th week in from when Mark was preparing his roses and he has just sent me an update; the roses are looking really healthy with lots of growth, and already a couple of the roses have bloomed.
The Lucerne mulch seems to have worked a treat, as the roses are looking the best they have for many years, just look at the early flower on the Iceberg rose.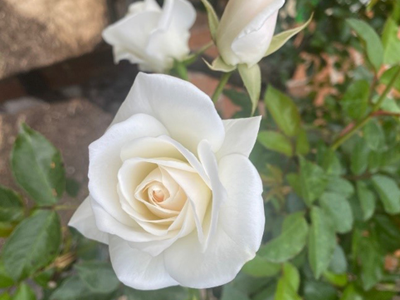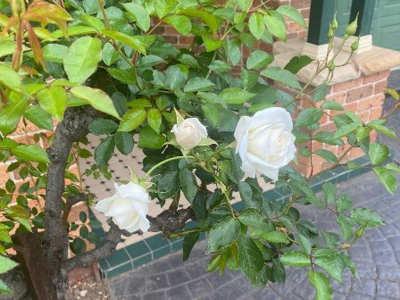 At this stage there is a lot of growth and buds are starting to form. So it's about maintenance, keeping an eye out for diseases and keeping the plant strong and healthy.  Here's my tips:
Weekly water onto the plants roots. When watering, don't water the leaves as this promotes black spots. Water directly onto the plant roots
Every 2nd week foliage feed with seaweed supplement. Feeding directly onto the foliage is a good way of getting extra nutrients into the plant at this growth stage as its producing lots of foliage and buds
Every 2 weeks neem oil application to keep pests at bay. Neem oil is a naturally occurring pesticide found in seeds from the neem tree
Every 4 weeks seaweed feed on the plant roots. Apply the seaweed supplement on the alternate week when foliage feeding
Fortnightly fungicide spray to keep black spot away. Apply mid-week so as you're not spraying everything at once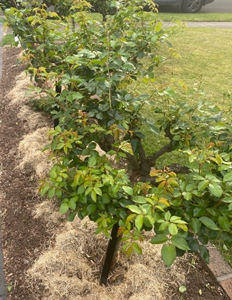 The important thing to remember when spraying or foliage feeding is to do it late in the afternoon or better still in the evening when the temperature is lower and the sun will not burn the leaves when they are wet.
Keep a watch on your roses as it starts to get hotter and humidity increases. In a few weeks we'll hopefully all have some stunning roses in bloom.