Spring is such an amazing and busy time in the garden; the ground and the temperatures have warmed up and we have been lucky enough to get some good showers of rain, so the garden is going crazy. Even in 2 weeks, you can see the difference. I have already mulched the garden, this keeps the weeds away and stops the soil from drying out and saves water. Especially with a raised garden it's very easy for the soil to become dry and as a result your vegies become stressed and they don't grow as well.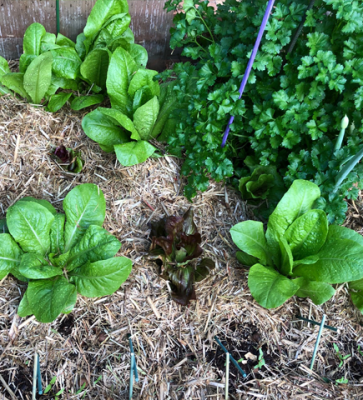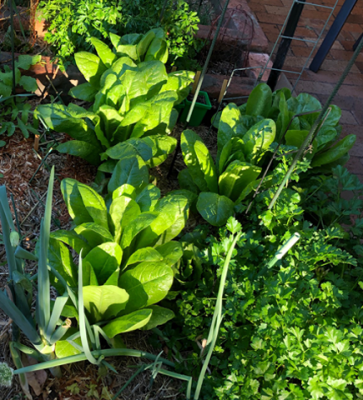 At this time of the year it's about changing over any winter crops and preparing for spring and summer. The early the better so the plants can get established before it gets too hot. I started some of my plants and seedlings in a pop-up greenhouse to create some warmth and protect them for a couple of weeks, this gives them a great head start.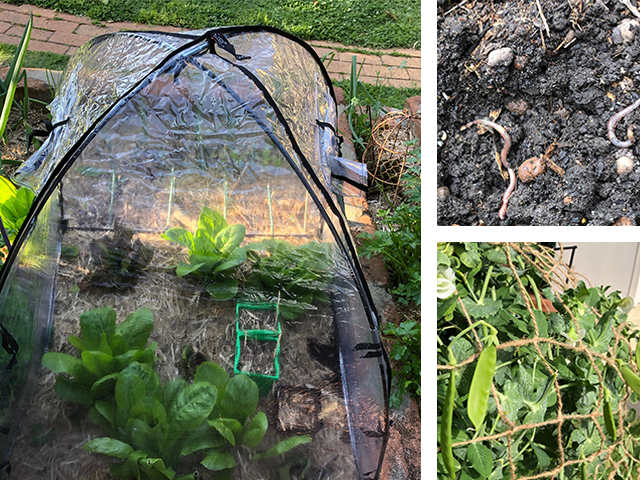 One of the other jobs was to pull out the remaining snap peas, these have been producing all winter, but now it's started to warm up, and the crop has dropped off and taken up valuable space. I left some of the big pods on the plants to dry out and I will keep these for next year's seeds. The rest of the plant goes back into the compost bin, so it's still producing even after it left the garden. I also left the spring onions to seed as well and will collect the seeds and replant once the seeds have dried out fully.
Because it's a small space, I dug the soil over well and added bucket loads of compost. The soil was full of worms and with all the compost plus some added clay balls mixed in, the soil is not as heavy as it used to be.
Another of the new season's jobs is to harvest the cumquats, which have just finished fruiting. We never really had a good use for these, but this year after some trials, the almond cumquat cake was created and it's already become my favorite cake. But back to garden preparation.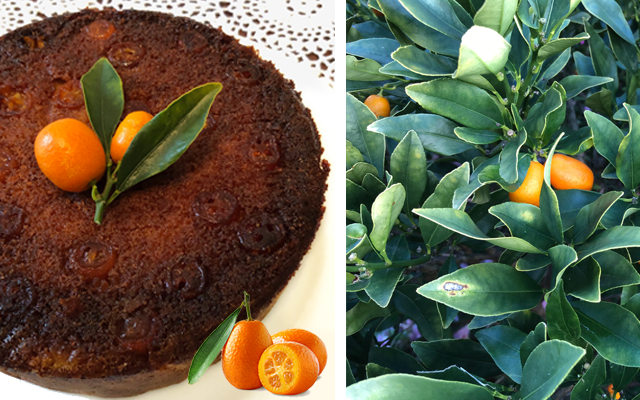 Depending on where you live, get into the garden and start planting as early as possible. I have started some plants from seeds straight in the garden and for some fussy plants, I have started these off in small pots, so when they are established I will transplant them to the garden if I can find the room!
This year, I chose a range of different plants that I had not grown before for a change and work out what varieties will grow the best in our garden.
I always grow climbing beans as they don't take up much room and they just keep producing for a long time. Make sure to put them at the back of the garden so they don't shade the other plants. I put 2 Grips & Grow frames together to make an A-frame and planted seeds in the middle. They are already beginning to twine up through the mesh. The variety was a heritage one called Blue Lake, which I haven't tried before but it has taken off and hopefully the beans are going to be tasty.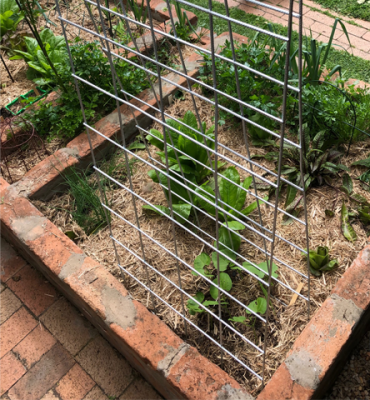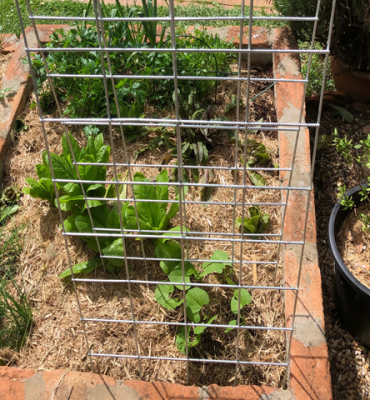 I directly planted small yellow beetroot, apparently these don't bleed like the red ones, and as a bonus the tops can be eaten in a salad. Next in the garden were some Daikon radish, which have really taken off. I will wait another week then plant some more so they don't all mature at once.
In small starter pots, there are broccolini, small white eggplants and a favourite of mine; tomatillos. I grow tomatillos as they are hard to get fresh and they are great for Mexican recipes. These will be transplanted in about two weeks time.
Late winter I planted red-veined sorrel in a slightly shady part of the garden and besides looking good it's a great addition to salads. However, the last few days have been a little warmer than normal and it's wilted during the day, so I've already given it some pop-up shade.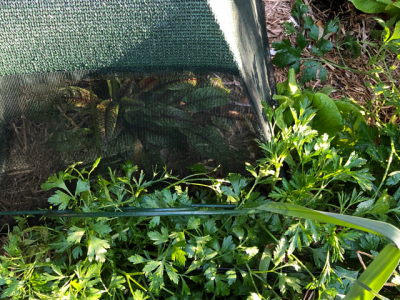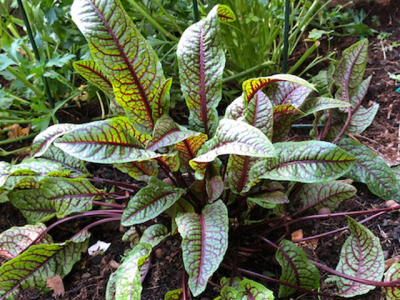 The winter Italian lettuce, similar to cos has been a mainstay of the garden through winter which has really enjoyed the early spring warmth and rain but any new plants have to be planted in shadier parts of the garden or under the pop-up cover as the leaves become tough and the plant tends to bolt to seed.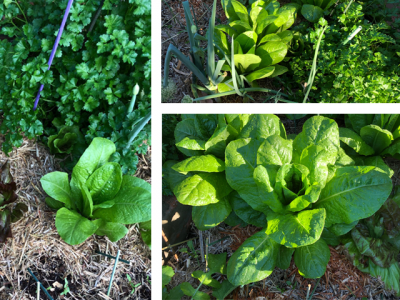 I look forward to sharing the garden's progress through the season and hopefully it's going to be a garden friendly year.